What To Cook Right Now With Jared Joe
By Casey Dienel
Mar 11, 2019
As the sun cuts across the Northern Hemisphere and daylight returns to us, we look for recipes to keep us warm while reviving the spirit. In these liminal weeks between Winter's end and the first blush of Spring, there's nothing better than slowing things down at home and curling up by the fire with friends. One last time, we celebrate earthbound roots like carrots and braise flavorful cuts of meat for hours until fork tender. As it happens, Habitas chef Jared Joe believes we don't have to be pros in the kitchen to cook satisfying meals all year long. Each day in our NYC home, he dreams up plates inspired by his travels and a unique respect for each ingredient. Nothing goes to waste. When we sat down to draw up this month's recipe, the subject quickly turned personal.
Growing up in London, all week long he looked forward to Sunday dinner when his mother would make dishes like slow roasted lamb. "This dish has so much nostalgic value to me," he said, recalling the scent of garlic and rosemary roasted potatoes traveling throughout the house. "A dish like this should give a sense of Moorish comfort and content." After eating his body weight in potatoes and lamb, Jared joked "I wouldn't be able to move away from the fireside."
It's no mystery why so many memories center around food. Equal parts time-capsule and passport to the world, what we eat transports us. It flies over borders and dismantles chronology. It's the matzo ball soup that's never as good as the one Grandma made. The unforgettable Lengua tacos with fat wedges of lime from a nondescript truck off La Cienega Blvd. It could be an aroma. Flashes of ginger or garlic hitting the pan. Fat from a rib-eye singeing over white-hot coals. These moments humble us. Everything crawls to a halt. Looking closer, we find we're able not only to travel back in time but to reclaim some of it.
So, how do we time travel in our own kitchens? As it happens, the best way is the most simple. On a day where it's too rainy to go out Jared suggests braising a lamb shoulder all day in the oven. "Give yourself plenty of time to cook the lamb," he instructs, "because it's not something you can rush, nor would you want to. I cooked this almost 3-pound piece for about three and a half hours, then turned up to high heat for the last half hour to get that crispy skin on the surface." The result? "Basically, I ended up with lamb carnitas braised in stout craft beer."
"Once it's done," Jared adds, "you're left with a glorious liquid that's screaming with flavor from the fresh herbs, beer, and broth." It's a great excuse to invite some friends over for dinner next weekend, uncork the wine, and reconnect. Slowing down has never tasted so good.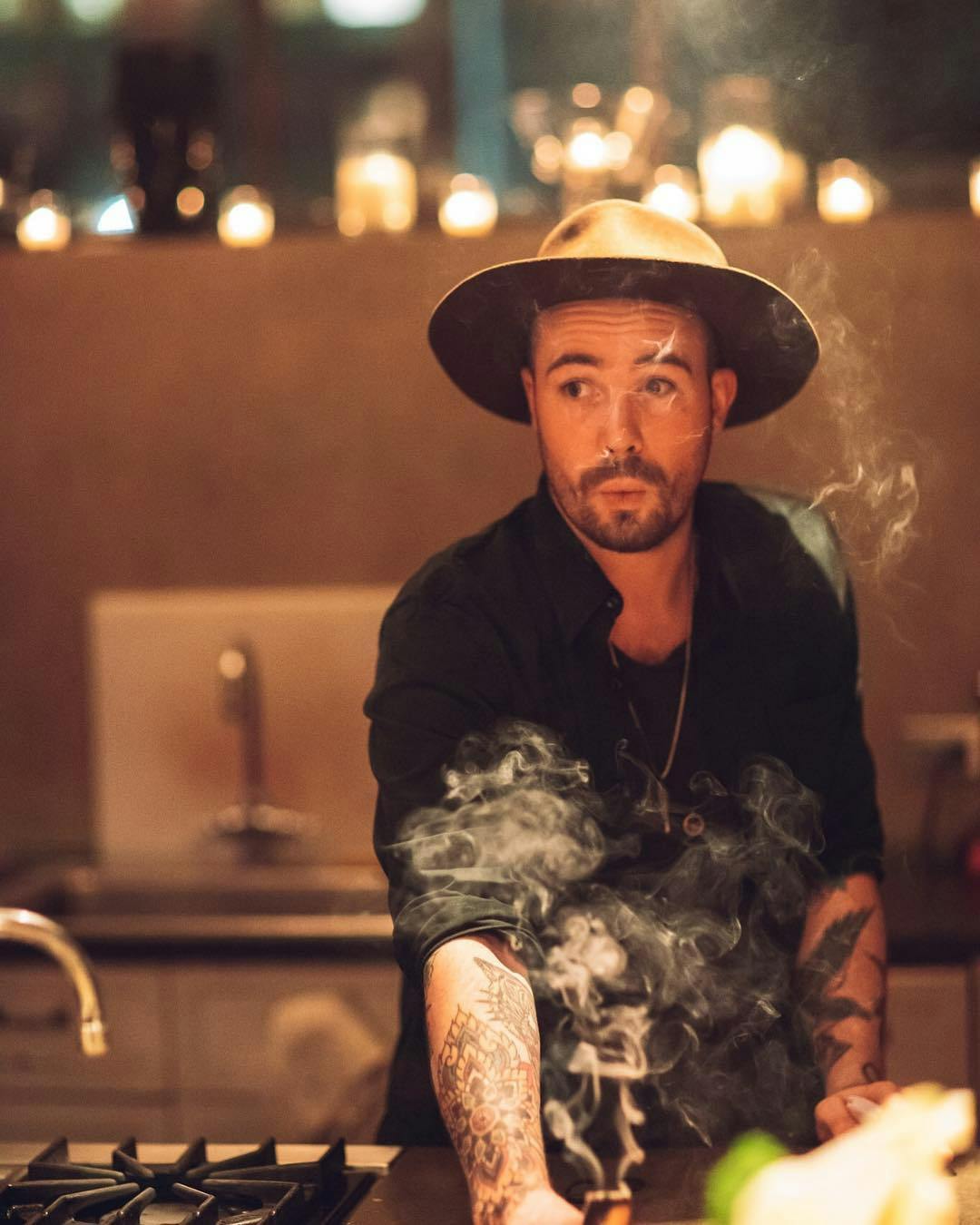 Jared's Sunday Slow Braised Lamb
A note from the Chef: The braised lamb shoulder will need to be seared over high heat before it hits the oven, and it's even better if you baste the meat with brown butter before it goes into the braise. This will keep all of the flavors inside and help to get that crispy outer layer we all love. The most important thing is to make sure you skim as much of the fat off the surface as you can. You'll be left with the meaty gravy base. I don't like to really do anything to this other than reduce it. No flour is necessary. It has a silky, indulgent flavor that goes perfectly with this shredded lamb shoulder.
INGREDIENTS
2.5-3 lbs. Boneless Lamb Shoulder
3 tbs. Olive Oil
2 Bay Leaves
2 Heads of Garlic, sliced in half, width-wise
4 Shallots, diced
1 tbs. Kosher Salt
1 tsp. Black Pepper
2 tbs. Fresh Rosemary, finely chopped
1 12-Ounce Bottle of Stout Beer
6 cups Beef Broth
4 sprigs of Fresh Thyme
3 or 4 Medium Rainbow Carrots, peeled and chopped to 2 inch pieces
¼ cup Brown Butter (optional)
INSTRUCTIONS
⇒ Preheat the oven to 325º F. Make sure the lamb shoulder is close to room temperature. You'll want a heavy-bottomed pan large enough to fit the lamb. A standard 2¾ qt. Dutch oven should do the trick. 
⇒ Season the lamb all over with the salt, pepper, and rosemary, massaging it into the meat.
⇒ In the Dutch oven, heat the olive oil over medium-high heat.
⇒ Sear the lamb on all sides, allowing a few minutes between turning to enable each side to develop a good crust. If using the brown butter, baste the lamb while searing. This will lock in so much incredible flavor for later on. Once it's well browned, transfer to a large plate while you carry on with the vegetables.
⇒ Lower the heat to medium. Add the diced shallot, carrots, garlic and bay leaves to the dutch oven. Cook for 5 minutes, occasionally stirring, until the shallots have softened and everything in the pan has begun to turn a golden brown. 
⇒ Return the lamb and any juices accumulated on the plate to the Dutch oven. 
⇒ To this, add the beer, beef broth, and thyme sprigs. Bring to a simmer and cover the pot with a lid. 
⇒ Place the Dutch oven in the oven and cook for 3 hours, turning the lamb over two or three times to keep the braise even. After 3 hours, take the lid off and continue braising an additional 3 more hours.
⇒ Crank the temperature to 400º F. Continue to cook for another 30 minutes. Cooking time will vary depending on the size of the shoulder, so the way to test if it's done is if you can shred it easily with two forks. 
⇒ Once the lamb is finished, transfer it to a platter and cover loosely with foil to keep warm while you make the gravy.
⇒ Skim all of the fat from the dish; discard the bay leaves, carrots, and thyme sprigs.
⇒ Pour the remaining liquid into a saucepan and reduce over medium-low heat to a glorious richness. From here, pass it through a sieve and transfer to a small serving dish or gravy boat.
⇒ Shred the lamb into pieces and serve alongside roasted potatoes with gravy on the side. 
Serves 6, generously.